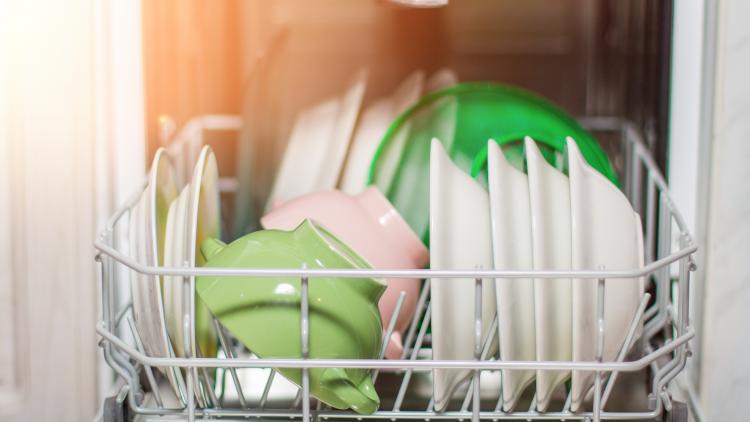 Anyone who has had one, then moved and no longer had a dishwasher knows this one simple truth. Dishwashers are incredible! A good dishwasher is hygienic and cleans dishes to a mirror finish. A good dishwasher saves an incredible amount of time that might otherwise be spent manually cleaning dishes and ending up with "dishpan hands". Modern dishwashers are more energy efficient than they have ever been before. There's also smart dishwashers which will alert your phone whenever a cycle is finished and monitor when there's only half a load of dishes being done. Arguably, the hardest part about getting a new dishwasher is choosing the one that's right for you. There's a large variety of dishwashers running from top of the line to more budget friendly options. The one thing that's for sure is that there are some great dishwashers on the market today.
1 - Bosch 500 Series SHPM65Z55N
Alright, so perhaps not a name that will roll off the tongue, this is one of the best dishwashers anywhere. Both exterior and interior make use of stainless steel (though also available in other colors for the exterior), allowing it to provide optimal kitchen utility. The dishwasher is one of the quietest options on the market as well, coming in at around only 44 decibels. The racks glide easily and the tines are incredibly customizable, so there's nothing that can't be washed. It has five cycles, so no matter how much cleaning power is needed, it's there. This is truly an incredible dishwasher.
2 - Miele G710SCUSS
Here we have a very expensive dishwasher on the list with a retail price coming in around $1500. However, there's a reason for this. They are intended to last flawlessly for 20 years. That kind of reliability is hard to find. It's also incredibly quiet and runs at only 43 decibels. The tub is stainless steel and the interior has some excellent features like a third rack. Even the appearance is optional, as you can choose either front facing buttons, or go for the hidden control method if you don't want the visual aspects in your kitchen. This dishwasher uses commercial grade pumps, ensuring it's always going to come back for more. It also dries among the best dishwashers ever made and avoids watermarks.
3 - Whirlpool WDT710PAHZ
This whirlpool model is a bit less expensive than some of the others on this list. You might even be able to find it for less than $500 if you catch it during a big sale or a Black Friday type moment. This Whirlpool dishwasher is a bit noisier at 51 decibels, but is still pretty reasonable. It's missing out on the stainless steel interior and instead uses plastic. Despite that, there's 5 different cycles to make cleaning easy and the upper rack changes height as needed. Drying is achieved with both heat and air circulation to ensure everything is dry quickly.
4 - Frigidaire FFCD2413UB
This 24 inch dishwasher is a steal and comes in around $400 at most retailers. It's efficient, simple and features two cleaning racks. It has a cutlery basket as well. It may not have stainless steel inside, but it's still really functional. While it may not have every function and cycle of other dishwashers on this list, you can still do a quick wash and a delayed wash. The delayed wash is especially useful as you can use it to start up when you're asleep or to ensure that you're taking advantage of power energy costs at non-peak times. It will also avoid putting undue amounts of stress on a hot water heater.