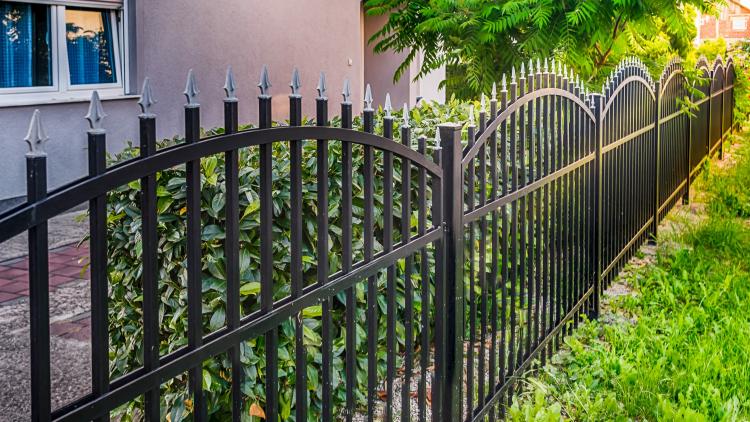 Proper fencing around a home provides beauty and privacy. You can use many fencing materials for your fence, but it is essential to be aware of what type to use as specific codes need to be followed when using these materials. Fencing around a home is essential for security and adds to the overall look of the exterior. The type of fence you choose is going to be based upon several different criteria. Some of these include your budget, how long you want to maintain it, and how much time you want to put into maintaining it. The best part is, once your fence is up, some of those nosy neighbors will have a much harder time trying to waste their day spying on what you are doing in your backyards.
Styles of Fencing
There are many styles to choose from. Some include:
Chain Link Fencing - A chain link fence is a low-maintenance one mainly used as a perimeter because it's easy to install and maintain. It is also lightweight and sturdy, making it the best choice for most uses. Chain link is available in thicknesses of 3/8 inch, 1/2 inch, and 3/4 inch.
Timber Fencing with Cedar Posts - Timber fencing is made from pre-cut lumber and is the most popular style today. The beauty of timber fencing is that it can be customized to your needs and is available in many styles and colors.
Ornamental Metal - Ornamental metal fences feature decorative posts and rails, usually made from aluminum, steel, or wrought iron. Timber is used for the rails. There are many ornamental fences styles, the most popular being picket, ranch rail, black chain link, diamond picket, and split rail fences.
Fencing with Concrete Posts - Concrete posts have been used for many decades and are an iron-clad solution for home and commercial use. They are relatively easy to install on both residential and commercial properties.
Vinyl Fencing - Vinyl or PVC fencing is a simple yet practical choice as it can be installed quickly and will not require any painting beyond your chosen finish coat. It also comes in various colors, making it easy to match your house's color scheme perfectly.
Benefits of Doing Your Fencing
Installing a fence is a lot of work, but it's not always the most complicated project. Many people like to do their own fence and there are some real benefits to doing so.
You'll save a lot of money - The cost of hiring a contractor to build your fence can be upwards of $1,000.00, depending on your chosen material. You can build an attractive and sturdy fence for about half that price if you do it yourself.
You will be able to choose a style that matches your home - You can choose your style or use a combination of styles, with the benefit being that you will be able to create an attractive fence in your front yard that can complement your home.
You will have suitable materials to install - When you hire someone to build your fence, you'll likely be given a standard material package that may or may not match the look of your home or property. If you do it yourself, you can choose any material and style for your fence that best fits your needs.
You can do the work yourself in your spare time - Hiring a contractor to install your fence might take you longer than planned. It is because contractors need to arrange for time off for other projects, often have higher numbers of installs at one time, and need to travel from site to site. Essentially, the timeline could be very short or very long. When you do it yourself, you can fit it into your schedule when you have the time.
Benefits of Hiring a Contractor to do Fencing
While there are some benefits to doing the fence project yourself, there are also some reasons why you will want to hire a contractor.
They will install the fence correctly. - When you hire a contractor, they will do it correctly. While it's true that you can build a fence on your own, it's near impossible to build one that is both aesthetically pleasing and sturdy without some practice. When you hire a contractor, they will use their expertise to create a beautiful fence designed to last for years and provide security.
They will install it quickly - While you can build a fence independently, it will take longer and require more effort than hiring a contractor. You can spend as much time as you want to build the fence, but when it comes time to install it, they have already done all the hard work in designing the fence and have everything they need on-site.
Increased knowledge - When you hire a contractor, you hire someone trained to build a fence on your home. They will know what material and style of fencing are needed to provide security, beauty, and privacy in your yard.
You won't have to worry about getting the materials or doing all the work yourself - Gathering materials and doing a project can cause stress as well as a loss of time and money. By hiring a contractor, everything is taken care of for you so that you can sit back and enjoy your new fence.
There are many different styles of fencing that you can choose for your home. Each type will offer a unique feature, and the choice will mostly depend on your needs. Considering all factors before choosing one to find the perfect fit for your home is essential.