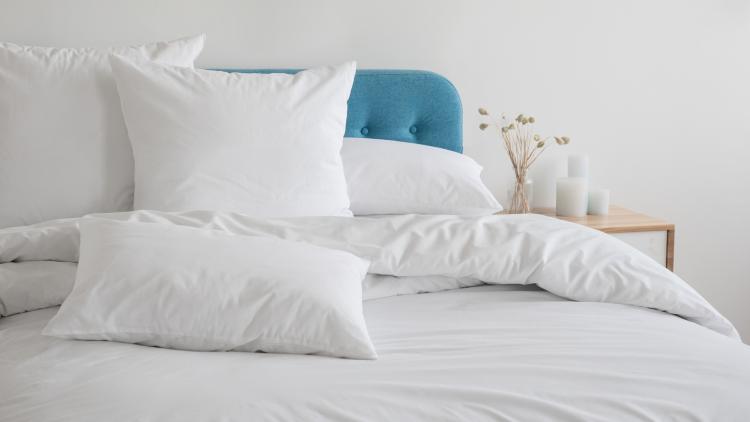 Everyone who has a good pair of bed sheets knows the truth. Your sheets matter. The better the sheets, the more comfortable you feel and the better you sleep at night. Humans have been making linen sheets for over 1,000 years because it feels good on the skin and has a positive impact on your quality of sleep. However, today some companies use synthetic materials treated with additives and harsh chemicals to make sheets. They can leach into the skin, irritate it or even cause allergic reactions. Admittedly in some cases these sheets are very comfortable. You spend one-third of your life in bed. Having good sheets can make you more comfortable and help you to sleep better during your many hours there.
Many people give little thought to their sheets and buy the cheapest ones possible. If you invest in quality sheets, it pays dividends by improving your quality of sleep and your quality of life. Good sleep helps your mind and body heal and your sheets play an important role in the process.
Common Sheet Fabrics
There's a lot of fabrics out there that sheets get made of. Some of these include:
Cotton - Cotton is the fabric most often used to make sheets. It's breathable, durable, soft and affordable.
Linen - Made from stems from the flax plant, linen is hypoallergenic, breathable, durable and moisture wicking.
Tencel - Tencel is a soft, durable, antimicrobial fabric made from the wood pulp of the eucalyptus tree.
Acetate - Made from wood fiber cellulose, Acetate feels very soft and satiny.
Silk - Produced by silkworms, silk sheets are soft and luxurious.
Polyester - Made from polymers, it's inexpensive, but stiff and scratchy. Polyester is usually mixed with another thread to make inexpensive sheets.
Microfiber - Microfiber sheets are soft, durable and resists stains.
Nylon - This synthetic fabric makes soft, satiny, wrinkle-free bed sheets that pills and falls apart.
Acrylic - This wrinkle-resistant synthetic material isn't comfortable against the skin. It's used for colorful blankets and comforters.
Bamboo - This soft, durable, silky, breathable fabric feels good against your skin.
Blends - There are many blended fabrics, most include cotton. Blended fabrics are inexpensive, durable, and wrinkle-resistant.
What Does Thread Count Really Mean?
Threads per inch or TPI measures the coarseness or fineness of a fabric. To measure it you have to count how many threads there are in each square inch or square centimeter of fabric. Some suspect thread count is a marketing ploy. However, it's a scientific term, with strict federal standards on how the threads are to be counted­. Technically, thread count is the number of threads that are woven together in each square inch of fabric. The threads are counted lengthwise (warp) and widthwise (weft). One hundred lengthwise threads that are woven with one hundred widthwise threads makes a thread count of 200.­
Thread count measures the number of yarns in a square inch of fabric. High thread counts are associated with a high-quality fabric. That's because it makes the sheets feel softer and more durable. In order to determine the thread count, the manufacturer has to count how many vertical and horizontal threads there are woven together in each square inch of fabric.
Best Style of Sheets for Each Season
Just like your wardrobe, your bed sheets should be changed seasonally. The best sheets can make it easier for you to sleep well. The material that the sheets are made of affects your bed's temperature. Just select the best type of sheets for use for each season.
Spring - Linen sheets are ideal for sleeping in the spring. It can soak up moisture that's 20% of its weight and not feel wet. For a sweaty sleeper, linen sheets are worth the investment because they make you feel so comfortable.
Summer - Balmy summer nights call for cool sheets. Instead of blasting the AC, use a set of light, airy, moisture-absorbing bamboo sheets and you will wake up feeling fresh and clean.
Fall - When its cold outside, some nice warm sheets means you don't need to turn up the heat. Heavy cotton blend Sateen blend sheets are perfect for fall weather. They make you feel nice and toasty.
Winter - Cotton flannel sheets are a good choice for winter bedding. These cost-effective, warm, fuzzy sheets come in solid colors and patterns and look good in any bedroom. The ultimate winter bedding, flannel warms you up in a flash.