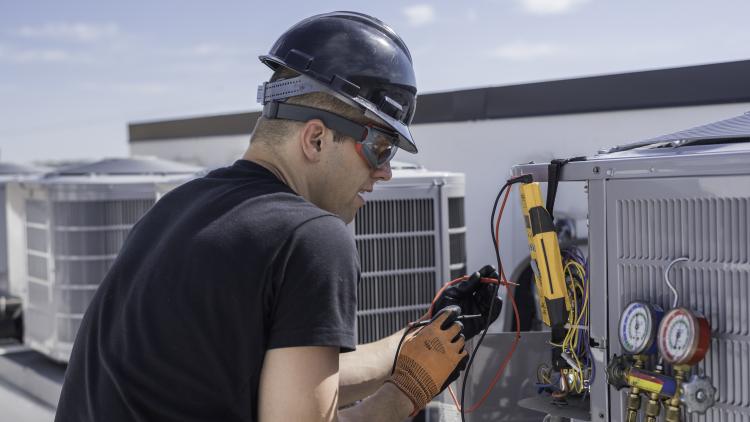 Homeowners and landlords don't generally think about major home systems until something breaks. Part of home maintenance is keeping the major systems in good repair. However, you can maintain systems all day, but at some time they're going to give their last gasp and stop working.
HVAC systems aren't difficult to maintain. A filter here, some cleaning there, and it should be good to go for another six months. Homeowners and landlords don't usually mark the time for which the home systems are ready to be maintained. That's why the breakdown of the systems comes as a surprise.
Modern technology has prolonged the life of HVAC systems up to 25 years. Changes include eco-friendly refrigerant, modulating and variable speed technology, smart thermostats, and variable operation stages. These enable the system to last longer, but there are still signs you need a new HVAC system.
Signs It's Time For HVAC Repair
The point of an HVAC system is to feel cool or warm air. Standing beneath the register should net you a solid rush of air. If it seems like it's going wrong, then it probably is. Some signs it's time to fix things include:
Air Flow Issues - A weak or thready flow of air means one of two things. The air compressor could be on its way out. Call an HVAC expert in to examine the compressor. The other is that a blockage in the ducts exists. Small holes, parting seams, and blockages like small animal nests or dust and dirt buildup will keep air from getting to you.
Poor Or Bad Air Quality - Dust, dirt, hair, and other detritus shouldn't be cruising the ducts or be blown into a room from them. This means the ventilation part of the HVAC is on the brink. You need a professional to repair them.
Inconsistent Temperatures - If one room is hotter than another, or if temperatures can't be maintained consistently throughout the house, then the motor could be about to break, the thermostat is about to break, the filters need changing, or a couple of other reasons. Get a professional to look at it before something does break.
What Does HVAC Repair Include?
Some HVAC units are outdoors. Repairs to these units include:
Removing debris from the unit
Cleaning the fins
Cleaning the coils
Recharging refrigerant
Checking the motor and repairing if necessary
Checking all electrical items and repairing or replacing if necessary
Check for and eliminate leaks
Check the amps and voltage of blower motor, compressor, and fan motor
Cleaning condensate lines
Examine the heat exchanger for cracks or holes
Replace all filters
Examine the thermostat for proper communication with the HVAC unit
Important components of an HVAC system are located indoors where you want to be cool in summer and warm in winter. Repairs to these components include:
Testing the ducts for cracks, open seams, and blockages
Testing that the thermostat operates properly
Checking the vents are operating properly
Changing the filter in the intake and checking that it's operating properly
Choosing An HVAC Contractor
Due diligence is required if homeowners and landlords are to get the best product and ensure the company uses best practices. Here are some tips on how to choose an HVAC contractor:
Research. You'll need to know the licensing and insurance information of your state. You'll need to know the make and model of your system before you choose a contractor.
Referrals. Ask family, friends, co-workers, people at church, as well as calling local tradespersons for names of contractors.
References. This is a major home system that costs major bucks. You'll need to call contractors' references to make sure they're legit.
Rebates. Energystar.gov will give you a list of rebates or tax breaks for using the newest and most energy-saving Energy Star units.
Get it in writing. Contractors will give your home an inspection to discover what is needed. They will write the results into their estimate along with whatever repairs need to be effected such as repairing leaks. You will compare itemized proposals between the contractors you seek.
When you choose one, sign an estimate or proposal in writing before the contractor does a lick of work. The proposal should reflect the cost of the installation or repair, the model numbers, warranty specifics, and the job schedule.