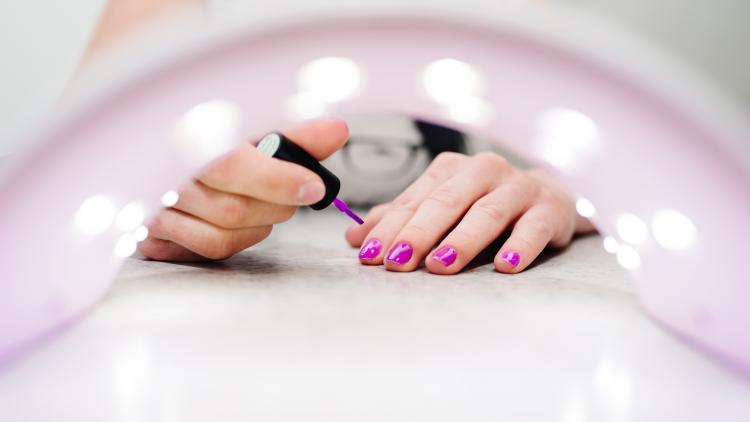 Taking care of your nails with colored or clear polish can be an exhilarating experience. However, allowing this creative nail art to dry naturally can consume a considerable amount of time even after you have spent hours to design and decorate them. While drying the nails takes about 10 to 12 minutes, it can feel like forever, especially when you have other pressing issues. Also, you can feel frustrated if you happen to accidentally smear or spoil your nails while waiting for them to dry naturally. This means all the time and hard work you've put into your nails goes to waste. We know you want to prevent this from occurring and make the nail polish application process easier, and that's why we've created this guide to help you choose the best nail dryer.
How Nail Lamps Work
Nail lamps and dryers work like hairdryers, only that they are meant for drying nails. Similar to a hairdryer, most nail dryers use either cold or warm air to cure nail polish. A nail lamp utilizes an inhaling system to draw in air, which it then blows out over a platform where you insert your hands or feet. Both UV and LED nail dryers use UV light to cure the polish. The UV lights get attached to the top of the platform, which allows you to place your hands or feet beneath the lights to get dry nails faster. Nonetheless, UV lamps emit a wide range of UV wavelengths, while LED dryers release a narrower, more targeted scale of wavelengths.
UV vs LED Nail Dryers
Both LED and UV function in the same way. However, LED nail dryers are better than UV dryers even though they cannot cure all nail polishes. LED nail dryers take less time to dry the nail polish than UV lamps, meaning they are safer than their UV counterparts. LED dryers take about 35-45 seconds to dry the nail polish, while UV lights take approximately 8-10 minutes. A faster curing time means less time you get exposed to dangerous radiation. Besides, most LED bulbs last for 50,000 hours and consume less energy than UV dryers, which means you don't need to worry about replacing the bulbs. On the other hand, most UV lamps have a service life of 1,000 hours, though it's recommended you replace the bulbs every four to six months. While LED nail dryers are costlier than UV dryers, you will save more time and money in the long run if you choose LED nail lamps.
Best Lamps and Dryers
Here are the best nail lamps and dryers to help you achieve a salon-worthy manicure at home.
Kedsum 12W - Kedsum 12W dryer dries nails in seconds. It's designed as a travel lamp, so the hand insert is spacious enough to fit all four fingers at once. Its LED lights have a service life of 5,000 hours. It also has a flat surface where you can rest your hands while applying nail polish.
Nailstar professional LED lamp - Nailstar professional LED lamp runs on 36 watts and is lightweight and portable. In addition, it has 4-timer settings, and you don't need to replace the LED bulbs.
Sunuv Gel UV nail dryer - Sunuv Gel UV nail dryer runs on 48 watts, and it's LED bulbs have a lifespan of 50,000 hours. This nail lamp cures all types of nail polish and extensions efficiently and uniformly. It can fit all fingers or toes at once and comes with 4-timer settings. Besides, this nail lamp has an automatic feature that enhances your manicure experience.
LKE Gel UV LED nail dryer - This nail lamp comes with an intuitive screen as well as an automatic sensor which will help you start and end the treatment once you get ready. Its curved design helps protect your eyes from UV light, while its soft light protects your skin from discoloration.
Ovlux Professional Nail Lamp - Ovlux Professional Nail Lamp runs on 72 watts and has 36 bulbs that can last for 50,000 hours. It's spacious enough to fit your feet and hands. It cures most gel nail polishes and comes with 4-timer settings, several heating settings, and some useful infrared sensors that are able to automatically determine when you put your feet or hands inside.
MelodySusie 54W - With this lamp, you can fit both feet or both hands inside. Besides, MelodySusie 54W cures all types of gel polishes and has an internal fan to keep your feet or hands at a comfortable temperature. It also has a removable bottom panel and comes with an extra bulb.