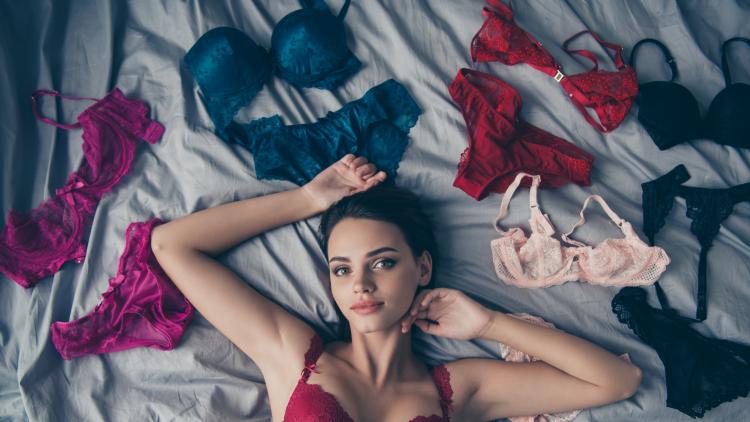 Shopping for underwear is an emotional journey. Yes, that's right. Despite being something common that's worn every day, there's something emotional and intimate about shopping for underwear. Underwear is made of different fabrics, and the perfect pair should be good for health, fitting properly, not too tight or too loose to avoid rashes, irritation, or chafing. Still, when shopping for undergarments, please take a closer look at the material used in making it to ensure that the fabric will work for the outfit of the day. However, many options are available, and it cannot be easy to decide which ones to pick. Here are different styles of underwear that go great with different outfits.
1 - Thongs
Thongs are among the most popular type of underwear for everyday wear among women. They are best worn with formal wear as they offer the least coverage, with the strip of fabric preventing the dreaded panty lines from showing through clothing. A thong will have no edges and bumps, making everything remain hidden. When choosing a thong, ensure that they have a cotton crotch area to prevent getting uncomfortable when it gets too hot due to moisture retention. Selecting the right thong size is vital as when it's too tight, it will ride up, gathering in one area, creating a perfect place for bacteria growth.
2 - Boyshorts
Boyshorts to women are what boxer briefs are to men. Rectangular in shape, they offer cover to the leg area and have the most coverage among women's underwear. Outfits that go well with it are loose and extremely short skirts and dresses. It ensures that coverage is provided on a windy day when the skirt is blown up with the wind. It is also great for loungewear as it's probably the most comfortable, and wearers can rest easily in different positions without worrying they will feel it riding and moving around.
3 - Briefs
Briefs offer a lot of cover for women and are the most popular type of wear. They cover both front and back areas. An outfit perfect for it is jeans and jean shorts since the coverage ensures that the hard jean fabric cannot rub against the skin, irritating the wearer. There are two styles that briefs can be found in. These are the high cut leg opening or the high rise waist type. Pregnant women also go for briefs as they are extremely comfortable, wearing them with almost every outfit.
4 - Bikini
Bikinis are similar to briefs with slightly less coverage and are usually made of porous materials such as performance fibers for easy drying. With a lower rise and higher leg openings, they offer sufficient back coverage and mimic bikini bottoms. They are perfect for everyday wear as they do not have panty lines and do not ride up. They are worn with most outfits, especially outfits with thin fabrics such as boyfriend shirt dresses. They are also perfect beach wear under see-through clothing.
5 - High Rise
High rise options are similar to briefs but offer more tummy coverage. It's best for form-fitting and bandage dresses that stick to the skin as they provide a smooth body impression with a perfect figure. They are also ideal for those with problems with underwear digging into the stomach area, especially with a job that demands a lot of bending.
6 - Cheeky Underwear
Cheeky styles are an improved version of bikini underwear. They are great for outfits with high slits and sundresses. They offer more coverage on the back than a thong. However, they have a wide hip band to prevent panty lines from forming and seen through outfits.
7 - Control Top
Longer high-rise underwear makes control top underwear. Control top underwear works more as shapewear, and most wearers aim to cover the stomach and back area, smoothing them out. They are extremely long and may go above the belly button and even as high as under the bra area. They are great for form-fitting dresses. They are mostly worn by women seeking to lose the baby weight but are still self-conscious of their body's look.
8 - G-String
A G- string is a type of underwear that does not offer any rear coverage. It is made with a small front coverage, a crotch area, and a long string that is joined together for the back. It is best for sheer dresses as it offers protection but does not distract from the outfit's overall look.