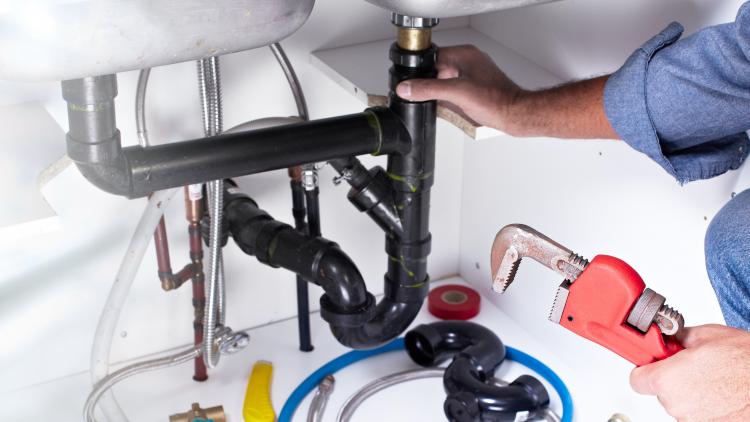 The piping system of the home is very important to the functioning of the home and can cause devastating damage if not properly maintained. In a worst case scenario, busted house piping can release water and sewage in the home, damaging the property and ruining possessions. To reduce the risk of catastrophic failure, the house piping system should be regularly inspected for damage, leaks, and irregularities to ensure that it is functioning flawlessly.
Checking for issues in the home's piping system should be done on an annual basis. Exposed pipes should be inspected for visible damage, flaking, discoloration, or irregular spots. Any leaks around the pipes should be noted for a professional plumber to check out. Discolored water from the faucets is another indication that there may be a problem in the house's piping.
Common Types of Piping Used
There are multiple types of piping used in home piping systems and each type has different properties. Pipes used in areas where hard water is common or that are not well-maintained can have a significantly shorter lifespan, so it is important for the homeowner or a plumber to inspect the pipes regularly.
PVC Pipe - This is a plastic-type piping that can be threaded or glued together in various configurations. It is inexpensive and easy to install, making it a common choice for most plumbing projects.
ABS Pipe - Acrylonitrile butadiene styrene pipe is similar to PVC pipe, but is not as rigid and is generally dark in color. It is preferred for piping that will be exposed to cold weather.
PEX Pipe - This is a newer entrant on the piping scene that has become popular due to its flexibility and low cost. It is easy to cut and weave through walls.
Copper Pipe – Copper is a popular pipe material because it handles heat well and has multiple options for connections. It is generally used for a home's water supply lines.
Galvanized Steel Pipe – Mainly found in older homes, these pipes are generally threaded together using connecting fittings. Its use has been reduced due to the risks of corrosion and breakage.
Cast Iron Pipe – Also found in older homes, this type of pipe was commonly used for drainage and sewage uses. It has fallen out of favor for multiple reasons, including weight, thickness, and difficulty of installation.
Water vs. Wastewater Piping
While all of the different types of piping materials can be used for water or wastewater, there are some big differences between the two. Water lines are used to convey clean water into and throughout your home from a private well system or municipal supplier and must be protected from contamination. These pipes carry water to faucets, hoses, and toilets throughout the home.
Wastewater piping is used to carry unclean water away from the home to a sewage treatment facility. They are connected to the drains in the home, including those for the sinks, tub, shower, and washing machine. They are also used to carry waste away from the toilets.
Potential Costs of Replacing Piping
The cost of replacing pipes in a home plumbing system can vary greatly depending on the type of pipe used and the size of the home. For an average two-bathroom home, the cost to replace the entire home's piping ranges from roughly $5,500 up to $15,000. Copper pipe replacement has the highest cost at $2 to $8 per linear foot, while PVC costs $0.50 to $1 per linear foot and PEX costs $0.40 to $2 per linear foot.
The cost of replacing pipes can be reduced by strategically picking when to replace the pipes. Pipes that are exposed can be replaced easily at any time, while pipes that are hidden in the walls can be replaced as they are exposed during renovation projects.