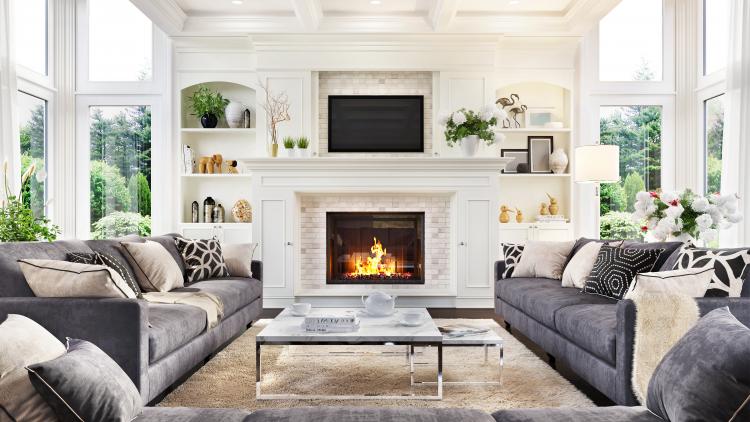 A fireplace is a great way to add a beautiful feature that brings warmth and class to any home. Whether it's a centerpiece inside, a small addition tucked in a corner, or an outdoor fireplace, each can elevate the space it's in. Although it's commonly accepted that fireplaces are essential for any cold-weather climate, they can be great for warmer climates as well. In places such as California, Arizona, or Texas, even though the temperature in the summer can be unbearable, there are plenty of cold winter mornings and evenings that can be spent around a warm fireplace.
When it comes to fireplaces, there are three common choices: wood fireplaces, gas and propane fireplaces, and electric fireplaces. There are pros and cons to each, but overall, adding a fireplace is a great addition to any home. There are levels of cost and materials that apply to any installation, but the warmth and beauty it adds to any home are unparalleled.
Wood Fireplaces
Wood fireplaces are where it all started. Most commonly associated with campfires, beach fires, and bonfires, wood fireplaces harken to times past and the outdoors. Wood fireplaces have lost popularity due to their fuel source and the amount of cleaning that can be required, but their rustic and rugged charm is undeniable. Many mountain cabins have wood fireplaces, adding to the cozy and warm aesthetic of the abode. It is also much easier to have a wood fireplace when it is in a home that is surrounded by trees, making for an easy supply of fuel.
Wood fireplaces require skill to start and need to be constantly fed to make sure it doesn't die down. However, the warmth from a wood fireplace is second to none, and the crackling sound it makes as the logs burn is incredibly soothing. It will bring feelings of comfort and peace to anyone who snuggles up around a wood fireplace. However, it can get smoky, so proper ventilation is important.
Gas and Propane Fireplaces
Gas and propane fireplaces are some of the most common fireplace options on the market. These are easy to light, simply requiring an electric light to start. It is a common choice for many suburban homes due to the ease of access to gas or propane lines. Gas and propane fireplaces are also customizable, with different styles and sizes available to fit any space and budget. Many gas fireplaces come with metallic or composite logs to create the effect of burning wood. These can be designed in any shape and style, glowing beautiful colors as the flames lick the surfaces.
Gas and propane fireplaces don't get as hot as wood fireplaces, but they do a good job of heating medium spaces. This a great addition for a family room or living room, adding a warming light and pleasant ambiance to dinner parties or social gatherings. It's easy to imagine watching a movie cuddled on the couch as the light from the gas fireplace flickers around the faces in the room. It's also important to remember that the gas is fully turned off after use, for safety.
Electric Fireplaces
Electric fireplaces are the most affordable fireplace option, especially in places where electricity is cheap. These can turn on with the flick of a switch, making it the easiest fireplace to use. They are also much more compact than their wood and gas counterparts, not needing large containers or spaces to create the heat it generates. These are a great option for smaller spaces, as they heat just the most immediate vicinity. This is the perfect choice for a bedroom, adding a touch of class and warmth to an intimate space.
These tend to have glass fronts and can also house fake wood logs inside. There is no smoke or smell of gas when these are in use, making them a discrete addition to class up any space. Electric fireplaces are a great choice for households with small children, minimizing the risk of major burns from open flames.
Between wood fireplaces, gas and propane fireplaces, and electric fireplaces, each has its charm and style, but the upside for all options is that it will bring warmth and beauty to any home.