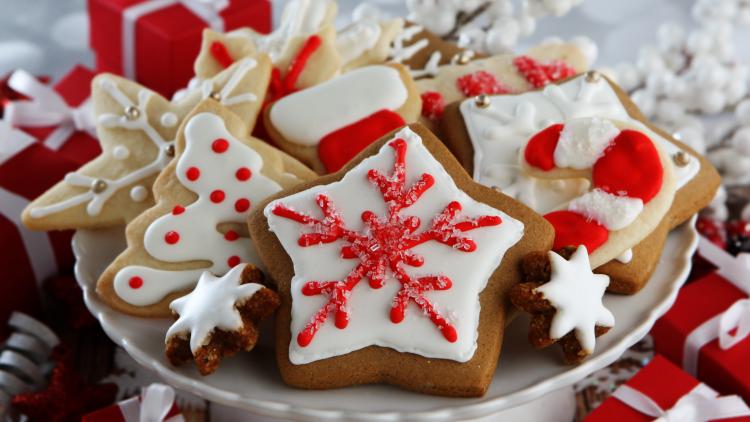 The Christmas season is here once again and that means that it is time to put up the tree, hang the decorations, and throw on your favorite Christmas sweater. It is also time to get busy baking. There are few things that will put you in the spirit of the season more than the smell of Christmas cookies baking in the oven. A great thing about Christmas cookies is the fact that they are almost as fun to make as they are to eat.
The good news is the fact that there is a nearly endless list of cookie options that are perfect for the Christmas season. With this said, the following Christmas cookie suggestions are sure to delight the entire family. These are 7 Christmas cookies that are the perfect sweet treat for this year's holiday festivities. There is sure to be something to delight the taste buds of everyone who stops by this holiday season.
1 - Peanut Butter Blossoms
Peanut Butter Blossoms are one of the most popular Christmas cookies for good reason. They combine the classic flavors of peanut butter and chocolate that everyone loves. This is one of those iconic cookies that conjures up memories of holiday seasons past. Biting into one of these peanut butter cookies topped with a Hershey's Kiss is sure to put you in the Christmas spirit.
2 - Classic Gingerbread Cookies
It really wouldn't be the Christmas baking season without the smell of Gingerbread Cookies in the air. These Christmas classics can be shaped into a variety of festive forms from the classic Gingerbread men to Christmas trees, stars, and candy canes. Decorating classic Gingerbread Cookies with icing and candy buttons is a big part of the fun of making them as well. They really do help to add a festive look to your Christmas cookie tray.
3 - Christmas Sugar Cookies
The versatility of Christmas Sugar Cookies is one of the key reasons why they are a perfect addition to your baking efforts over the holidays. This is a great Christmas cookie option if you are looking to involve the whole family. Kids love the fun of cutting out different holiday-themed shapes. The fun is taken to the next level when it comes time to add Christmas-colored icing to these buttery favorites. The decorative options really are nearly endless when it comes to this Christmas classic.
4 - Holly Berry Cookies
Few options are as festive and loaded with Christmas spirit as Holly Berry Cookies. Holly wreaths are synonymous with the Christmas season and so are these delicious cookies that take on this familiar shape. This iconic Christmas cookie variety continues to be among the most popular enjoyed by families across the United States each year. They make an eye-catching addition to any proper spread of Christmas cookies.
5 - Jeweled Coconut Drops
There is something about coconut that goes perfectly with the holiday season. Jeweled Coconut Drops are the perfect way to add some additional flair to your Christmas cookie spread. The addition of a drop of red raspberry preserves in the center of these winter favorites adds a spark of color that will liven up your holiday baking efforts. This is another one of those holiday favorites that are sure to bring up fond memories of Christmas seasons past while you celebrate the current one.
6 - Christmas Snickerdoodles
Christmas Snickerdoodles are another great way to add flare to your Christmas cookie tray this holiday season. They are also a delicious addition that the whole family is sure to enjoy. Though this iconic cookie is great any time of the year, adding some Christmas-colored sugar in red and green helps to transform them into the perfect addition to your holiday baking efforts.
7 - Snow Drop Cookies
Snow Drop Cookies really are the ideal choice to wrap up this list of 7 great Christmas cookies for this holiday season. These buttery, almond-infused delights are the perfect cookie for a white Christmas. A dusting of powdered sugar adds the final touch that makes these delightful confections a welcome addition to a festive plate of cookies for the whole family, or to leave out for Santa on Christmas Eve.