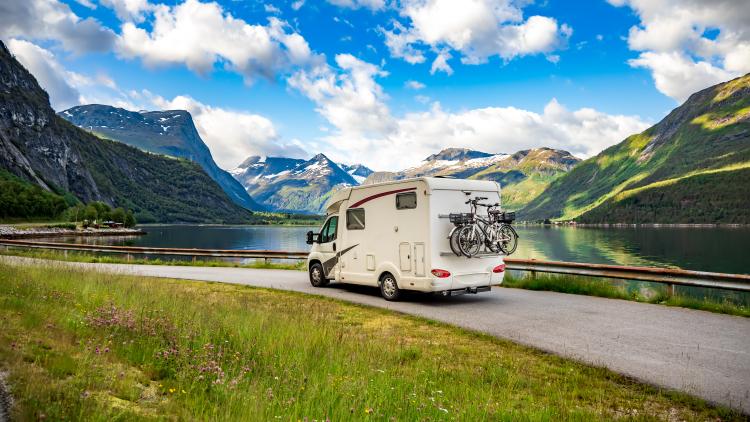 There's always a new adventure down the road, and nothing helps vacationers chase those opportunities quite like an RV. Anyone who enjoys escapes with multiple destinations, scenic trips, or access to nature should consider an RV for their next trip. RVing is an easy way to upgrade a camping trip to a glamping experience. It offers potential savings as well as ease of travel for those with conditions that make traditional camping difficult. The bathroom is always nearby, and beds comfort aching joints better than an air mattress in a tent. Amenities like kitchenettes and small refrigerators also help vacationers with strict dietary requirements enjoy their time and meals away from home. It's an excellent option for aging travelers, families with small children, and groups of friends. By reimagining how accommodations and transportation interconnect, RVs can open the door to all kinds of vacations. So, where exactly can an RV take you?
1 – Hit the Open Road
Road trips are best when travelers can actually enjoy driving time. Cramped cars limit motion and activities, often for entire days at a time. An RV keeps the comforts of home close at hand throughout the adventure. Because an RV has everything vacationers need, intrepid adventurers don't have to plan their trips around the most popular tourist destinations. They aren't limited by hotel availability, and the vacation's pace isn't set by the distance between stops. Any interesting town can become an overnight resting place. Travelers don't have to read reviews for a dozen different motels, hoping to avoid bed bugs and moldy showers. Their cabin travels with them into national forests, ghost towns, major cities, and everything in between.
2 – Get Back to Nature
Camping is a family favorite, but bugs are not. Sleeping in a tent during a thunderstorm with kids can quickly become a nightmare, and plenty of people feel squeamish about doing their business in the woods. An RV solves those problems. Most state and national parks also cater to RVing with specialized campsites, so visitors stay in the parks and close to nature. This combination of accessibility and convenience means guests enjoy things like firepits and easy access to local lakes and trails without giving up modern bathrooms, electricity, and comfortable beds.
3 – Camp at Theme Parks
RVing has a bigger foothold in the theme park accommodation industry than many realize. Even enthusiastic travelers may not consider bringing their own camper to major parks like Disney, even though there are specialized campgrounds designed with RVs in mind. This cuts the cost of staying at expensive resorts and makes theme park adventures more financially accessible. With an RV, campers can easily bring their own food, prepare their own meals, and save on overpriced theme park food, too! If you're going to spend all day at the park, why not save a little on the sleeping conditions?
4 – Visit Friends and Family
Not all friends and relatives have homes large enough to host guests for more than dinner. Traveling by RV is like bringing a guest room. This reduces the burden on hosts and creates opportunities for extended families to reunite, college buddies to reconnect, and old friends to keep their connection alive. Not only does an RV serve as a potential guest room, but it also facilitates group adventures to nearby parks and recreation centers. It's easier to fit two or three families in an RV for a day at the local beach than a minivan.
5 – Spend Quality Time Together
Is it cliché? Maybe, but the fact is, making memories can be overshadowed by the hassle of getting to and from your destination. No one looks back and fondly talks about their time in line for airport security. In an RV, any time is potentially quality time. It's easy to swap between drivers at rest stops so everyone has a chance to relax and play games, eat food, and even nap in the rest of the vehicle. Kids have space to stretch out. Grandparents can put their feet up. Ambitious groups can even attempt on-the-road Twister. An RV is like a cabin on wheels, so the vacation doesn't have to be put on hold between stops.