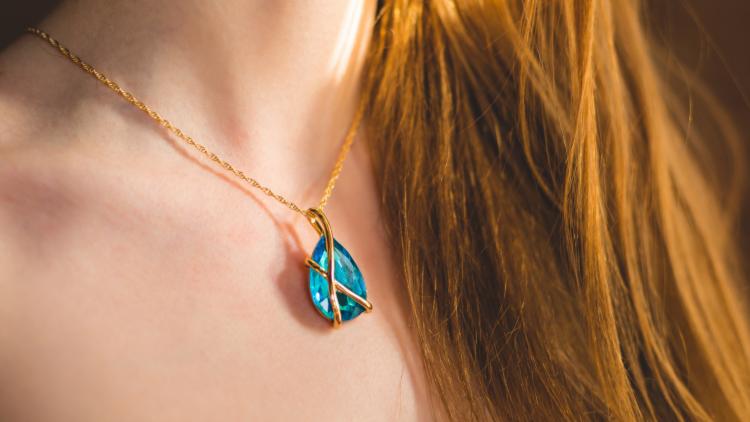 Fashion may be all about clothing, but did you know accessories make all the difference in improving the value of an outfit? Ornamental accessories add aesthetic value, irrespective of an outfit's official or casual nature. They can make one stand out even if the person standing next to them was wearing the same apparel.
A necklace is an ornamental addition in the form of a string of beads, pearls, or other jewels adorned around the neck. Pendants, lockets, chains, and chokers may all be considered necklaces. There are plentiful designs and styles of necklaces. These can be simple and defined or more elaborate and extravagant. The secret is to know how to pair a necklace with the outfit one is wearing for the best result.
Everyday Necklaces
An everyday necklace is one that merges with just about everything, is non-elaborate, and can be adorned all the time every day. One may potentially harm their jewelry if they wear it all the time, depending on the material it is made of. Still, there are no notable health hazards to wearing a necklace everyday all the time, including when bathing and sleeping.
Necklaces made of silver, gold, stainless steel, platinum, titanium, or palladium are safe to shower because they do not tarnish. Actually, one need not take it off at all. Acquiring an entirely different style is possible by just stacking several necklaces with one's everyday necklace.
Over time, wearing an everyday necklace will become one's signature, and people tend to identify a person with their distinct style. Stacking several necklaces on top of your everyday necklace adds clarity to the different dressing styles without eliminating your signature – giving one's audience something to relate to.
Special Occasion Necklaces
Special occasions are indicative that one should make a statement with their attire and accessories. Once she walks into a room, she wants to make all other heads turn towards her. It's easy to get this effect if she adds on an intricate necklace. This may include a glittery piece or elaborate design that boasts of hematite, rhodium, textured bezel, or other combinations that come nicely together. The variety of unique designs is endless, and one can ask for custom-made ornaments with special messages or nametags.
A variety of beads, rock pendants, glittery jewelry, pearls, or other combinations make a necklace bold. Jewelers are pretty creative when it comes to creating the most exciting pieces. Finding the right one for customization can define your creativity in mixing and matching outfits with unique necklaces.
Special events ornamental pieces are usually more elaborate and all-embracing than the everyday necklace and will necessitate removal immediately after the occasion is over. They tend to be a tad bit bulky but not too heavy to withstand an entire day sitting on one's neck. These necklaces are a show stopper and a point of attraction, sometimes moving the focus away from the outfit itself. It is one of those things people will remember days after the event.
Popular Retailers
Jewelry is a must-have in a lady's wardrobe, and the adaptability that a necklace provides makes it an unmissable accessory. Jewelry companies attract their customers by listening more and providing them with accessory pieces that match their desires. Additionally, attractive discounts and knowledgeable sales team members make specific retailers stand out. When retailers focus on building their brand and distinct pieces, they are sure to win and gain popularity.
Popular retailers have one thing in common: they do not forget their existing customers, and extending personal communication ensures that these customers return for more purchases. There are a plethora of retailers that specialize in jewelry and accessories around the United States. Some of the more popular retailers include:
Tiffany & Co.
Signet Jewelers
Sterling Jewelers Inc.
Nordstrom
Baublebar
Zale Corp
Cartier
Ashford
Lux Bond & Green
Mejuri
Twinkle Deals
Fred Meyer Jewelers
Helzberg Diamonds
Rogers & Hollands
Etsy
Gorjana
Lee Michaels Fine Jewelers