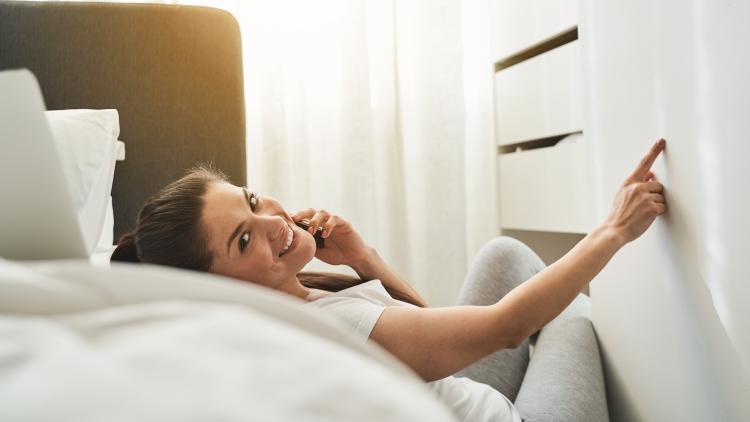 Loungewear is an essential part of relaxing at home in comfortable clothes that don't feel restrictive or unpleasant to the touch. While pajamas are often worn at bedtime, loungewear garments are the clothes worn while relaxing during the day or before going to sleep. After getting home from work, it's peaceful to shed the formal clothes off and put on garments that are designed to relax and comfort the body.
Loungewear can be worn while relaxing on a day off or doing some light chores around the home. These garments are often also able to be worn outside for errands or yardwork. If the clothes are comfortable and designed to be relaxed in, they're most likely loungewear. Many people already have loungewear in their homes that they use during the week and evenings.
Loungewear Items
There are many loungewear items that are beneficial to have in order to maximize comfort during a relaxing day. Tops can include sweatshirts and baggy t-shirts that leave a lot of room inside and are made with breathable fabrics. Stretchy clothes and cotton are great for comfort because they won't compress the skin and feel light. Bras usually aren't necessary as part of loungewear, but bralettes or soft cup bras work fine if they're absolutely required. Nightgowns are good full coverage garments for those who don't want to bother with bottoms. Aim for clothes that feel almost as if they're not on at all.
Bottoms can include shorts, sweatpants, joggers or leggings. Jeans or restrictive pants are not part of loungewear and shouldn't be included during relaxation days to maximize relaxation. Shorts are great around the house no matter how short or long. Sweatpants and joggers are great for keeping warm while having full movement of the legs. Leggings are a very versatile garment that can be worn as bottoms or around the town for errands. They're form-fitting but comfortable and very light against the skin.
Hats and accessories typically aren't necessary as loungewear. Beanies can be worn if the temperature is colder, and there are some tasks to complete outdoors. However, they can quickly overheat the head due to the lack of breathability and cause uncomfortable sweating. Socks and slippers are good examples of loungewear as they can be taken off if they get too warm and also keep the feet clean. The perfect loungewear maintains preferred temperature and comfort level during the day and into the evening.
Most Influential Loungewear Brands
Choosing a brand of loungewear that's providing quality clothes and making a significant impact can be a hard feat to accomplish. Take a look at a few of these brands to determine which one has the best styles and options. Sleeper is a brand that's bringing innovative designs and colors into sleepwear and loungewear. Their garments are touted as having many purposes and being ethically sourced. They carry pajama sets, linen dresses and an assortment of items with flashy feathers that feel silky soft to the touch. They support a range of movements and charities including breast cancer awareness.
On the other side of the fashion spectrum, Baserange focuses on minimalism in their clothing and takes comfort to the max. They carry socks and bottoms in a variety of colors. They also further their collection with bodysuits and jumpsuits, which are perfect loungewear items not available at many stores. From sweaters to dresses to t-shirts, Baserange works to craft garments that will bring comfort and relaxation to the day without sacrificing morals. Their clothing is made eco-responsibly with fibers sourced naturally and recycled materials.
Another great brand for those looking for comfortable athleisure garments can take a look at Feat. Widely renowned in many magazines as one of the softest brands available on the market today, Feat offers fashionable clothing sets that are perfect for those ready to spend the whole day in loungewear. Clothing options for men and women include hoodies, crewnecks, shirts, shorts and joggers in fashionable tie dye colors and a range of patterns. They even offer mystery boxes of clothes for the more adventurous shopper. This brand is also working to be as sustainable as possible with a majority of used materials being recycled.